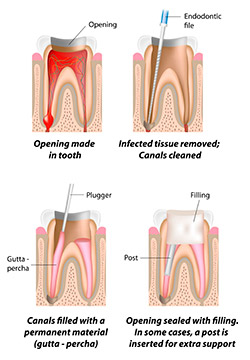 Root canal therapy is a treatment used to save and repair a badly decayed or damaged tooth instead of extracting it.
Root canal therapy consists of several steps:
The damaged or decayed part of the tooth structure is removed along with the infected pulp (consisting of nerves and blood vessels)
The inside chamber of the tooth is then cleaned thoroughly with a disinfecting solution
Finally, the tooth chamber( hollowed part of the tooth) is sealed with a special filling material
Listed below are some of the causes for a tooth nerve (pulp) to become inflamed:
Deep cavities (tooth decay)
Repeated dental procedures and incorrectly sized or fitted dental fillings
Dental injuries and trauma
An infected and inflamed tooth nerve (pulp) can cause the following dental problems:
Bone loss around the tooth root which can also damage other teeth
Swelling that may spread to the other areas of the face and neck
Drainage problems extending outward from the root
The most common signs of root canal problems include:
Severe toothache upon chewing or biting down
Prolonged sensitivity/pain to hot or cold temperatures
Tooth discoloration (darkening)
Swelling and tenderness of the nearby gums
Persistent or recurring sores on the gums
If you are experiencing any of these symptoms, please contact our office to make an appointment with Dr. Keselbrener as soon as possible to have your tooth examined.
When the nerve of the tooth becomes infected or damaged, Dr. Keselbrener believes that root canal therapy is the treatment of choice, as it is the only treatment option that preserves your original natural tooth. In most cases, root canal therapy is a very predictable procedure with a 95% success rate. The only alternative to root canal therapy is having the tooth extracted and replaced with an implant, bridge, or removable partial denture to restore chewing function and prevent adjacent teeth from shifting.
Root canal preventive measures:
Following proper oral hygiene practices, including excellent dental home care( brushing and flossing) and professional dental cleanings to prevent tooth decay
Regular dental check-ups that allow hidden tooth decay to be noticed in it's early stages and prevented from destroying more of the healthy tooth structure
Preventing or reducing the severity of sport-related injuries and trauma by wearing a custom made professional sport-guard