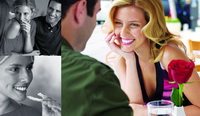 limited time offer
take $500.00 Off the Invisalign orthodontic treatment procedure
convenient and comfortable way to straighten your teeth without braces
Click here to learn more about Invisalign advantages over traditional orthodontic treatment (braces).
Replace your dentures or missing teeth with natural-looking Dental Implant restorations
Click here to learn more about our Dental Implant procedure.
Teeth whitening, veneers, bridges, crowns, inlays, onlays, implants...
Click here to learn what your best choices are to get the smile of your dreams! (a $200 value!)