Complete Smile Design & Makeover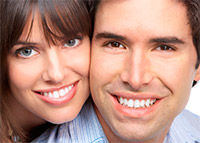 The biggest gift that modern cosmetic dentistry can give you is a healthy, beautiful smile! A smile that can make you look and feel young, improve your self-esteem and open so many doors for you.
According to the latest survey conducted by the American Academy of Cosmetic Dentistry, the most common reasons people seek specialized cosmetic dental treatment are to improve their:
appearance
self-esteem/confidence
professional success
health
personal relationships
Through the use of a wide variety of innovative techniques and procedures, and only the finest bio-compatible materials, Beverly Hills Cosmetic Dentist Dr. Michael Keselbrener achieves exceptional results in creating beautiful healthy smiles for his patients. As an expert in cosmetic dentistry, Dr. Keselbrener takes a comprehensive and meticulous approach to smile makeovers; paying attention to every minute detail and always considering your preferences and expectations. Dr. Keselbrener always takes his time to discuss all of the options available for your cosmetic treatment and recommends what he believes to be the most predictable, long-lasting and least invasive treatment.
Here are some ways you can improve the appearance and health of your smile at Beverly Hills Dental Care/ through cosmetic dentistry:
Change the size and shape of a particular tooth, repair chips, cracks, fractures and other defects
Close unattractive spaces and gaps between teeth
Straighten misaligned teeth, making your smile more symmetrical
Mask tooth stains and discolorations
Replace missing teeth and therefore restore your chewing and speaking ability
Lighten and brighten the color of your teeth
Replace old unattractive dental fillings and dentures
Remarkably enhance your smile!
At our Beverly Hills dental office, we offer a wide variety of modern cosmetic dental treatments including:
Revitalize your smile!
Contact Beverly Hills Dental Care today to make an appointment for a complimentary smile makeover evaluation!