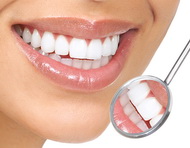 Teeth whitening is a simple, non-invasive dental procedure used to correct teeth discolorations, caused by:
food and beverages
certain medications and chemicals
excessive use of fluoride
aging
It's safe, quick and very effective.
We offer in-office professional tooth whitening (bleaching) to make your smile glow again in just 1 hour.
You also have the option to whiten your teeth in the comfort of your own home, using our home-whitening system. This home whitening kit consists of custom-made clear plastic bleaching trays that perfectly fit your teeth, and a supply of professional bleaching gel. Simply wear the trays for only a few hours per day, and in a couple of weeks your smile will appear refreshed and glowing again.
Please, contact our office for your teeth whitening consultation today.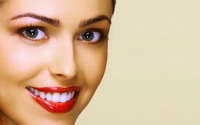 Professional In-Office Teeth Whitening -

$299

Take-Home Teeth Whitening -

$199
Take the first step to a whiter, brighter smile. It's easy, safe, and affordable. Make all your first impressions count - make them while flashing a white, bright smile!