Positive Experience
At Beverly Hills Dental Care we believe in building a special relationship with our patients by treating them as our family.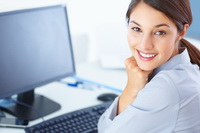 We understand how apprehensive some people may feel about their dental visit and we try to make a difference by providing a warm and relaxing atmosphere and giving our patients our undivided attention. Our policies include never double booking your appointments and always valuing your time as our own.
Patients of our practice are often treated with their favorite beverage, a warm blanket, the latest magazine to read, and a wide selection of music to enjoy while receiving their dental treatment.
Safety in Our Office
To protect our patients and ourselves we emphasize infection control techniques and strictly maintain and monitor sterilization and cross-contamination processes using standards recommended by the American Dental Association (ADA), The Occupational Safety and Health Administration (OSHA), and The Center of Disease Control (CDC).
Training and Expertise
As your dental care providers we want you to be confident in knowing that we are a team of highly trained clinicians. We are committed to extensive continuous education to stay informed of the latest techniques and available products so that we can provide you with state of the art dental care, service and results.
That is why so many of our new patients have been referred to our practice by our biggest fans – our current patients.