Dental Crowns
A dental crown is a dental restoration that is placed over a severely damaged tooth when more conservative restorations such as porcelain veneers, inlays and onlays are not sufficient to restore the proper form and function of the tooth.
X
Old crowns replaced with natural looking Porcelain Crowns

Although there are several types of crowns, porcelain crowns are the most popular because of their natural look and durability. All of our porcelain crowns are handcrafted by world-class Master Dental Ceramists to provide the perfect fit and the most exceptionally natural appearance.
Porcelain crowns are capable of:
Repairing the original shape and size of badly broken and fractured teeth
Restoring teeth with large cracked fillings
Protecting and preserving the remaining natural tooth structure for teeth with excessive decays after root canal therapy
Providing an outstanding wear-resistance and durability as well as an exceptional natural appearance
Dental Bridges
A dental bridge offers a great permanent solution to replace your missing teeth and restore your facial appearance, proper function of your mouth and overall dental health.
A traditional bridge is a device that consists of two crowns placed over two adjacent neighboring teeth and an artificial tooth in between them to fill in the gap of the missing tooth.
Our dental bridges are fabricated with precision and artistry by Master Dental Ceramists and then bonded to your teeth by Dr. Keselbrener to insure an outstanding fit and a beautiful natural-like appearance.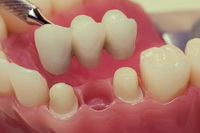 Dental bridgework can:
Fill in spaces left by missing teeth to restore a patient's chewing and speaking ability
Prevent remaining teeth from shifting out of their normal position allowing them to maintain a proper alignment and bite
Maintain your facial structure and prevent a wrinkled sunken facial appearance associated with missing teeth
Help prevent bone loss and gum disease
Be a cost effective alternative to dental implants with a faster completion time and the option to treat several teeth with one procedure
Dental crowns and bridges require the same meticulous care as natural teeth including regular brushing, flossing and professional dental cleanings and check-ups to maintain the appearance of the restoration and the health of the supporting teeth and gums.