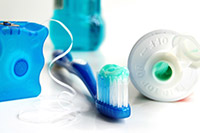 During your dental exams and professional dental cleanings at our office you can receive detailed dental care instructions as well as an introduction to a wide variety of dental hygiene aids that you can benefit from. During your visit we will advise you on how to select dental care products and how to properly use them to attain the maximum benefit. Listed below are some popular dental hygiene aids that offer many health benefits to our patients:
Toothbrushes are available in a variety of sizes, shapes, and bristle tensions (from extra soft to extra firm) to optimize comfort, control, and efficiency. Dr. Keselbrener recommends a small or medium sized soft-bristled toothbrush that gentler on your teeth and gums (read more on our oral care instructions page)
Dental flosses are available in a variety of types and flavors. Dr. Keselbrener recommends waxed dental floss which is softer and easier to slide between your teeth without damaging your gums (read more on our oral care instructions page)
Superfloss and Ultrafloss are special kinds of floss with an interlocking network of spongy nylon fibers that are especially beneficial for patients with:
Large gaps between teeth
Orthodontic appliances( braces)
Floss threaders are versatile nylon loops that help slide dental floss into hard-to-reach places such as in between bridgework, connected crowns, and orthodontic appliances (braces)
Interproximal brushes (proxibrushes) are tiny brushes that are especially effective for patients with large gaps between teeth, bridges, and orthodontic appliances (braces)
Sulcabrush and end-tufted brushes are short, pointy-ended brushes which are very effective in cleaning hard-to-reach crevices and gaps between teeth
Water Irrigator also known as a "dental water jet" is a home care device that uses a stream of pulsating water to remove plaque and food debris between teeth and below the gumline. It is also very effective in treating gum inflammation and improving your gum health.
Gum stimulator is an excellent tool used to massage and stimulate blood flow to the gums after brushing
Fluoride toothpastes and mouth rinses are very effective when used in conjunction with brushing and flossing and can help remineralize tooth surfaces and decrease tooth sensitivity
If you have any questions about dental care aids or would like a detailed consultation, please contact our office to make an appointment with Dr. Keselbrener.