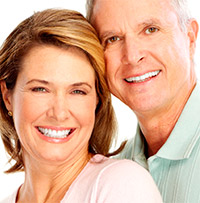 A denture is a removable dental appliance specifically constructed to replace missing teeth and the surrounding tissues. Dentures are custom-made to resemble your original teeth and therefore can greatly enhance your dental aesthetics and your smile.
Full dentures are used for patients who are missing all of their teeth in a single arch (upper or lower), while partial dentures are used for patients who are missing only some of their teeth.
Dentures can dramatically improve your quality of life by filling in gaps left by missing teeth and therefore:
Restoring your chewing and speaking ability
Preventing remaining teeth from shifting out of their normal position and therefore allowing them to keep a proper alignment and bite
Maintaining your facial structure and preventing a wrinkled, sunken facial appearance associated with missing teeth
Preventing bone loss
Enhancing your smile
Improving your self-esteem
Dentures are also considered a cost effective alternative to dental implants as they have a faster completion time and offer the option to treat several teeth with one procedure. In order to create the most functional and natural-looking dentures, all of our dentures are custom-made in a professional dental laboratory using bio-compatible materials, and then fitted to perfection by Dr. Keselbrener.
Dentures are very durable appliances and with proper care and regular professional dental cleanings and check-ups, will last many years.
If you would like to find out if full or partial dentures are the right choice for you, please contact our office to make an appointment with Dr. Keselbrener.