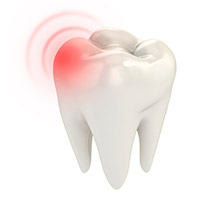 A dental extraction is the removal of a tooth from the mouth.
The most common reasons for tooth extractions are:
Severe tooth decay or infection that has destroyed enough of the tooth structure to render the tooth non-restorable
Impacted or problematic wisdom teeth
Severe gum disease which may affect the supporting tissues and bone structures of teeth
To make room for adjacent teeth and for proper teeth alignment during orthodontic treatment
Fractured teeth
At our Beverly Hills dental office, we do everything we can to ensure that your tooth removal process is painless, quick, and anxiety-free.
Post Extraction Healing
In most cases, the recovery period lasts only a few days. The following tips will help speed up the recovery process and make you feel more comfortable after the procedure:
Do not rinse your mouth vigorously for the first 24 hours after the procedure
Proceed with gentle rinsing several times a day with warm salt water to reduce swelling and relieve pain
Avoid drinking through a straw for 24 hours
Take it easy after the procedure because physical activity may increase bleeding
Avoid smoking
Follow a liquid/soft food diet, which may include gelatin, yogurt, pudding, applesauce, or soup, and gradually add solid food into your diet as healing progresses
Avoid rubbing/touching the area with your tongue
Take pain medications as prescribed by Dr. Keselbrener
Continue to carefully brush your teeth and tongue
After the damaged tooth has been extracted, it is always best to replace the gap with a dental implant or dental bridge work. This will allow you to:
Restore your chewing and speaking ability
Prevent remaining teeth from shifting out of their normal position
Maintain your facial structure and prevent a wrinkled, sunken facial appearance associated with missing teeth
Maintain proper alignment of your teeth and bite
Help prevent bone loss and gum disease
Enjoy a healthier and happier life style by providing comfort and enhancing the appearance of your smile
So if you have any discomfort, a cavity or old filling, or if your tooth is loose or broken, do not postpone your dental visit. Contact our office to schedule an appointment with Dr. Michael Keselbrener for a dental check-up today. Remember that many dental conditions can be successfully treated before they grow into a serious problem.